New Steamy Steam Generator / Extractor
Combines steam cleaning and detergent spraying functions./You can clean with steam only, water only, steam and water, or steam and detergent./Choose the most effective function for all cleaning jobs.
Technical Features:
18/10 Stainless Steel Boiler
Boiler pressure switch & thermostat.
Mechanical safety valve.
Pressure gauge.
Steam ready indicator & Water finished warning light.
Steam & Chemical level control.
Speed variator for suction power control.
Water filter for dust separation.
Technical Data:
Working pressur: 5 Bar / 0.5 MPa.
Steam flow rate: 0 - 80 g/min.
Steam temperature: 140 °c.
Absorbed power max: 3 kW.
Boiler volume: 2.5 ltr.
Detergent tank: 1.5 ltr.
Recovery tank: 7 ltr.
Weight: 11.5 kg.
Deimensions: 57L x 40W x 65H cm.

Made in Italy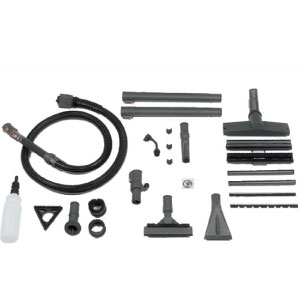 Jiffy Steamer J-4000 Steamer Machine
Jiffy Steamer J-4000 Steamer Machine is equipped with a 5 ½ foot hose with a plastic steam head and handle and a 1 gallon self-contained water tank with preheat and steam settings. It contains a sight gauge on the side of the steamer to view water level and sediment build-up at a glance. It heats up within 15 minutes to preheat temperature and produces steam within 2 minutes once at the preheat temperature.
Specifications:
Steam Head: Configuration #1 Standard Plastic Steam Head with 5.5 foot hose.
Assembled Dimensions: 20 in x 11 in x 61 in.
Steam Time per Filling: 1 hour 45 minutes.
The heavy duty Model J-4000 Commercial garment steamer is equipped with 1500 watts of steaming power.
Features:
5.5 ft / 1.68 m flexible rubber hose.
Convenient standby and steam settings.
Reaches standby temperature within 15 minutes.
Ready to steam within 2 minutes once at the standby temperature.
All brass couplings.
Solid die cast aluminum outer housing for durability.
304 stainless steel internal boiler tank.

Made in USA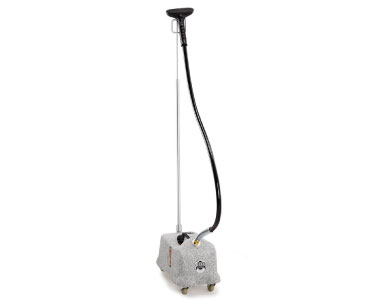 Jiffy JF0602 Small Steam Iron
Specifications:
3 times more powerful than any handheld steamer on the market, with 600 Watts of power
Ready to steam in 1 minute
Steam Time per Filling: 15 minutes
No internal water lines on pumps that could become clogged by hard water
Uses plain tap water – no salt needed
Wide mouth, easy-to-fill water tank
Largest water reservoir on the market
Double-insulated outer housing for cool-to-the-touch operation.
Features:
9 ft power cord with molded storage clip for more manageable handling
Water level window on both sides of the unit
Designed to fit neatly inside a suitcase or briefcase
Water Capacity: 8 oz / 1.8 kg

Made in USA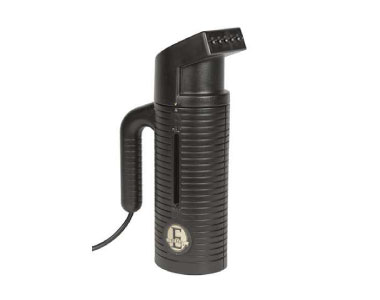 PDS1 Blower / Dryer
The PDS1 is a full-featured commercial dryer with an impressive 3,800 feet per minute in air velocity plus handle and wheels for supreme mobility. Even with all that power, the PDS1 still weighs in at only 22 lbs. and is compact enough to fit in closets and the back of vehicles with ease.Additionally, it has a low amp draw of only 4.4 amps, giving you the most airflow for a small amount of amps.
Specifications:
Power Rating (W): .6 HP, 529 W, 2.3 A @230V and 50/60 Hz.
Fan Blower Speed Level: Low-14.36 m/s; Med-19.02 m/s; High- 21.75 m/s.
Air Flow Rate Level: Low- 710 Rpm; Med-1105 Rpm; High- 1550 Rpm.
Speeds: 3.
Sensors: Thermal shut-off.
Operating Positions: 3-position w/ kickstand.
Power Cord: 10 m.
Motor: 1/2 hp.
Weight: 10.4 Kg.
Features:
Space saver stackable design.
Smaller and lighter – only 22 lbs.
Full power – 3,800 feet per minute air velocity
Lower amp draw – only 4.4 amps
Durable and lightweight co-polymer polypropylene housing.
Convenient carry handle and cord hook
American engineered and assembled

Made in USA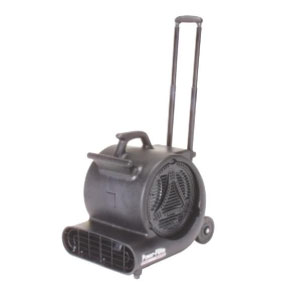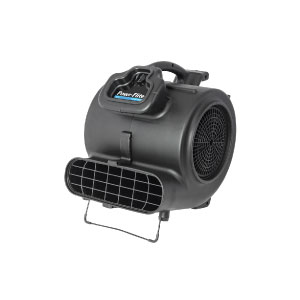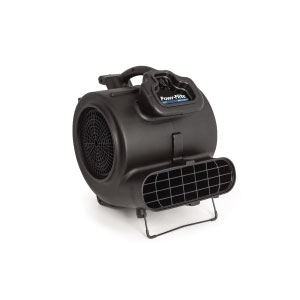 IPC SG-50 Steam Generator / Extractor with Trolley
Accessories Included:
Handrip + Hose
Steam - Suction Accessory Kit
Technical Features:
Power Boiler.
Anti Bugs.
Automatic Shutdown.
Ergonomics
Power Flex.
Power Filter
Power Suction.
Technical Data:
Working pressur: 5 Bar / 0.5 MPa.
Steam flow rate: 0 - 100 g/min.
Steam temperature: 160 °c.
Absorbed power max: 2.9 kW.
Boiler volume: 4 ltr.
Detergent tank: 6 ltr.
Recovery tank: 6 ltr.
Weight: 45 kg.
Deimensions: 109L x 40W x 107H cm.

Made in Italy